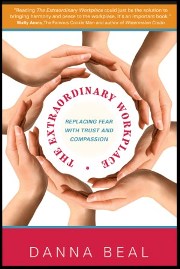 "People need autonomy over task (what they do), time (when they do it), team (who they do it with), and technique (how they do it). Companies that offer autonomy, sometimes in radical doses, are outperforming their competitors."
Daniel Pink,  author,  Drive:  The Surprising Truth About What Motivates Us
The Extraordinary Workplace:  Replacing Fear with Trust and Compassion
Creating a workplace where people have freedom of choice leads to not only happier employees, but increased productivity, creativity and profitability.
Today's workplace is often permeated with a web of egos battling and competing for power and validation, managers who dis-empower employees, and co-workers who hurt and sabotage one another.  It can be fraught with internal competition, pain, gossip, worry, stress, inseurity and most insidious of all, a fear under-riding the relationships within the organization. How can teamwork and cooperation occur in an environment like this?
In The Extraordinary Workplace I share the secrets to rebuilding relationships in the workplace so that people can be restored to their true identities, their inner spiritual greatness.  I call this process "A Personal Restoration Plan:  The Path to Authentic Power".  My new book shares practical steps at the end of each chapter on how you can find freedom and satisfaction in the workplace  no matter where you are on the organizational chart. Discover the secrets to personal happiness and harmony in the workplace.
To purchase the book or other products.   [

Click Here

]
What Is the Spirit of your Workplace?
Would you like to see your team working with cooperation, motivation, harmony, enthusiasm and commitment and without dissension, internal competition, rivalry, blame and gossip? Then you will want to pay close attention to this letter.
Here's why:
When I talk to both leaders and employees they tell me that the workplace today is exhausting, insecure and overwhelming. In reality, millions of people spend three fourths of their waking hours in the workplace and are not happy nor using their full potential. The workplace today is often comprised of a web of egos battling and competing for power, managers disempowering employees, and co-workers sabotaging one another.
The temperature in the environment is heating up as uncertainty in the economy grows. People are disheartened. Yet, people are the fuel that drives the organization and without their energy and motivation, the company gets poor mileage.
 Leaders and managers who operate from ego roles of superiority unwittingly shoot a hole in the gas tank, depleting the energy and potential of those they lead. There is a serious problem in the workplace today and it's time to wake up.
What Is Happening in the Workplace?
Gallup's recent State of the American Workplace survey showed that of the approximately 100 million people in America who hold full-time jobs, 70% of American workers are disengaged at their jobs. Are you engaged?
The problem for most disengaged employees is their boss. Gallup's Chairman and CEO,Jim Clifton, states, "Here's something they'll probably never teach you in business school: The single biggest decision you make in your job — bigger than all of the rest — is who you name manager."
According to the report, 20% of working Americans are so actively disengaged at the office that they are actively undermining their co-workers' work. The conclusion–these employees have bosses from hell that make them so miserable that they roam the halls spreading discontent. The other 50 million (50%) American workers are not engaged. They're just kind of present, but not inspired by their work or their managers.
In my book, I discuss how the ego-driven boss disempowers employees.  Gallup research also shows that these managers from hell are creating active disengagement costing the U.S. an estimated $450 billion to $550 billion annually. If your company reflects the average in the U.S., just imagine what poor management and disengagement are costing your bottom line.
Obviously, we need new kinds of leaders in the workplace and the world. We are all leaders in some capacity and so we can start with ourselves in creating an extraordinary workplace. Here are some suggestions for renewing, restoring, and rebuilding.
The Conference Board Suggests Managers Are Not Prepared
The continuing inability by organizations to manage people as individuals rather than employees is undermining the effectiveness of the American workforce and leading to widespread employee disengagement.
What's more, according to market information group TNS and The Conference Board, managers are not prepared to effectively meet the major challenges presented by the future American workforce while remaining globally competitive.
Layoffs Affect Health of Remaining Workers
Countless people have been laid off during the recession. But laid off employees aren't the only ones who suffer. Employees who survive layoffs lose trust and are prone to greater role ambiguity which can result in depression and greater alcohol consumption according to the Institute of Behavioral Science.
People who are stressed out and worried do not perform well and are not productive and creative. Ego drama and rivalry occur in environments when fear and insecurity are permeating. Fear may motivate temporarily but actually exhausts and depletes people in the long run.
Health Care Workers Do Not Have Confidence in Senior Management
In their survey of 5,424 employees in U.S. health care, Towers Perrin found that health care workers do not have confidence in senior management. Only 43% say that senior management is sincerely interested in employee well-being, the number one driver of health care employee engagement.
What's more, 37% say that senior management sees them as just another part of the organization to be managed, and 15% say that senior management treats them as if they don't matter. Further, only 40% believe senior management communicates honestly and openly.
What If You Could Create a Workplace Where:
Trust and respect prevail.
People contribute at their full potential.
Your organization exceeds the strategic goals.
Communication is open, free and honest.
Everyone is engaged and productive.
Customer service is exceptional.
People enjoy going to work.
Teamwork is outstanding.
To purchase the book or other products.  [Click Here]
"Reading The Extraordinary Workplace could just be the solution to bringing harmony and peace to the workplace.  It's an important book."
–Wally Amos, The Famous Cookie Man and author of Watermelon Credo
 "Danna Beal's important new book, The Extraordinary Workplace, gives you essential insights to transform your workplace by rebuilding relationships with trust and integrity."
— Bill George, professor, Harvard Business School and author of True North
 "Danna Beal's book puts relationships in the workplace under the microscope and offers practical, helpful, spiritual nuggets as ways of healing the workplace."|
—Gerald Jampolsky, M.D., author of Love Is Letting Go of Fear
 The Extraordinary Workplace is a book for anyone who works—no matter what your role in the organization. Discover how you can find peace in today's chaotic workplace.
–Russell Bishop, Managing Partner, Bishop & Bishop and author of Workarounds That Work
 Anyone in today's workplace would derive benefit from Danna's wise advice and counsel. Follow it and watch your business prosper."
–Carol Howe, author of Never Forget to Laugh:  Personal Recollections of Bill Thetford, Co-Scribe of A Course in Miracles
 "You clearly grasp the servant-hearted commitment to forge your life into a beautiful force for others.  I honor you, and look forward to standing, always, as your friend."
–Mike Cogdill, Emmy Award winning television journalist, author of She-Rain
 "I totally agree with Danna. We should utilize the time at work to learn life skills we can use at home. I truly enjoyed reading Danna's book and feel that I am already incorporating some of her principles in my daily work. It is a very inspirational book."
–Anders Berglund, IKEA, former co-owner, Seattle, WA
AUTHOR DANNA BEAL, .Ed, business consultant and international speaker has been conducting her groundbreaking workshop series, "Healing the Workplace Culture", and keynotes on, "Enlightened Leadership" to over 300 businesses and organizations throughout the United States and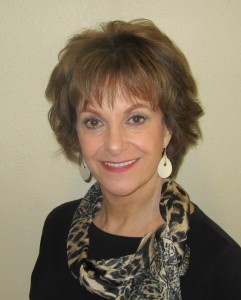 Canada. She has been on over 60 radio and TV talk shows discussing her new model for enlightened leadership and cooperative workplaces.
Ms. Beal has been a keynote speaker and workshop leader for over twenty years.  Boldly addressing the ego drama, internal rivalry and fear in so many workplaces, she reveals a path for creating a safe and trusting workplace environment where all people work at their highest potential. Her clients have included hospitals, physician practices, CPA and law firms, senior living, automobile dealerships, government, insurance agencies, non-profits, retail businesses and banks.
Ms. Beal has been a keynote speaker and workshop leader for over twenty years.  Boldly addressing the ego drama, internal rivalry and fear in so many workplaces, she reveals a path for creating a safe and trusting workplace environment where all people work at their highest potential.
Free Audio Article:
If you would like a free audio MP3 article "Is Rivalry Preventing Teamwork in Your Organization?" [Click Here]
Visit her and find more information at www.dannabeal.com.